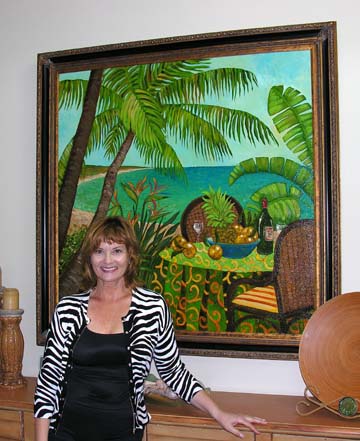 Jan Dorion Whitney
A Professional Fine Art Painter (for over 23 years), Whitney currently enjoys
her summers painting in Colorado, California & New Mexico and her winters
in her Florida Studio. Another inspiration for her paintings is sailing trips
with her husband to the Bahamas, Grenedine Islands, Mediterranean and
the Baja of California. Whitneys paintings reflect this life-time of travel.
Creating a Collection of "Island Women", "Beach Villas", "Ocean Views",
"Interiors". "Still Life", "Nauticals", "Landscapes" , and "Tuscan Scenes".
Whitneys' signature textured style and fresh approach to Mother Nature
has attracted serious art collectors world wide.
Published and marketed 23 years ago, Whitneys' art received national
acclaim and a following began.
Raised in New Mexico , Jan took great joy in having her first "One Woman
Show" in Santa Fe , New Mexico 20 years ago.
Her work has appeared in many prominent magazines such as Florida Design,
New Mexico Magazine, Arts & Antiques, La Vie Claire, Southern Accents,
and more.
Published and marketed by Ellis Clark Fine Arts, originals and ltd. editions
up to 8ft x 8ft are available along with commissioned works...
Studio Viewings by appointment only & to purchase call: 772 223 -8844
www.whitneyart.com visa/master card......shipping worldwide